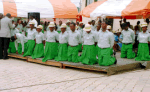 Yes it did. The dream for an educational system that would run from Nursery school to University level and on the truth of the word of God, began at our father-in-the-Lord's ordination as the General Overseer of the Redeemed Christian Church God. At the ordination, Daddy gave a word of prophecy that there would come a time when an educational system would exist to provide full Christian education for our children. Mother–in-Israel, Pastor (Mrs.) Adeboye took the prophecy to heart and began to nurse the dream for this godly educational system. Naturally, she had to start with the nursery school, then primary, before the secondary school could become a reality. Christ the Redeemer's founded the Redeemer's College Schools movement, the first secondary school in the movement.

DATE
EVENT

1995 February 12

Inauguration of the Governing Board for CRSM Secondary School by Pastor (Mrs.) Folu Adeboye.

1995 April

Board visits the Konigbagbe property to "look". Great excitement.

1995 May

Father-in-Lord, Pastor E.A. Adeboye visits the property with the Board . He "thanks" God for giving it to us.

1995 May - August

Board meets on a weekly basis, efforts to locate the owners of the property almost proving futile. The adversary at work. First college staff resumed Miss. Imuokuede and Miss. C. Azubuike, typist and cleaner/messenger respectively.

1995 August

Zone B Convention - Eureka! We found him – Mr. Toyin Munis.

1995 October

Negotiations begin in earnest. Will he sell? "God wants your property brother".

1995 December

Bingo-Going! Going!!! Sold !!!.

1996 January

The school must start in September '96 "Yes Sir".

1996 March 26

Daddy AGO (now DGO) Abiona came to pray for the workers as actual reconstruction work began on the property.

1996 March

Then the bulldozers and caterpillars moved in

1996 March

There will be a school of International standard where all the staff, from the principal to the gardener would be born again, Spirit filled believers. Buy your forms now.

1996 April - May

Board works hard on the First Admission Examination with skeletal staff.

1996 June 22

What a day! It rained cats and dogs. Floods everywhere, the first examination held in three centres, Lagos, Abeokuta, and Ibadan for over 400 children.

1996 July, 11 & 12

1st set of interview examination. The Chairman and Secretary to the Board presided over everything. It was an enlightening experience.

1996 October 1

Dedication of College by Daddy G.O. it was a most Beautiful day. A glorious day in the year of the King of Kings. Mummy G.O., Chief Hostess was really happy. Another vision fulfilled. Prophecy of even more schools to come.

1996 November 7

First 21 students resumed

1996 December 11

First service of songs. Pastor S. Winger ministered

1997 March 7
First ministration at special Holy Ghost of March '96. We were well received

1997 July 26

First outreach in Muson Centre. Wonderful time in the presence of our God. Pastor Charles Achonwa ministered
1997July 28

Thanksgiving service at the College. Pastor Funsho Adeboye ministered. Love feasts and after glow were really wonderful.

1997 Sepember
2nd Service of Songs, Pastor Adeloye ministered.
1997 Sepember
Second set of 42 students resumed along with the first 21
1998 March
We went for our blessing at the camp we got a new generator PTL.
1998 July
School closed prematurely due to water problems.
1998 September
Third set resumed, 45 students to join the previous 2 years. We
have finally made it to 100 students.
1998 December 9
Madrigal Christmas Programme, Real live preacher, Pastor Adedayo ministered to the people of Ayede and the audience "Ezra the scribe" club launched, along with Lekki '98 Track, and Memory Verse Packs.
1999 January 11

Tell Magazine of 11th January wrote a beautiful report on the College Madrigal Programme
IT ALL BEGAN WITH THEM
Mojibayo Akinjiyan is an Architect by Profession and a Pastor by calling . A graduate of Architecture from Obafemi Awolowo University Ile-Ife . He has put in over ten years in practice. He is currently an Area Pastor in the Redeemed Christian of God. He is a writer and publisher. Married to Sister 'Bunmi Akinjiyan, he is blessed with two children; Melody and Favour.
Mrs. Toyin O. Olakunrin attended Government College, Aba, CMS Girls School Lagos, St. Anne's School, Ibadan and Hawthorne School Frinton-on-Sea Essex; Bournemouth College of Technical Education, and Univeristy of Birmingham England. Qualified as a Chartered Accountant of England and Wales in 1963. Has been an Auditor, Bank Executive Stockbroker, Industrialist, and Consultant. Former president of Institute of Directors Institute of Chartered Accountants of Nigeria (ICAN) , council member of Ondo State University Ado-Ekiti, member of vision 2010 Committee, former Board member of Nigeria LNG Limited. Chairman of Footwear and Accessories, Manufacturing and Distribution (FAMAD) has received ICAN Merit Award. Award of a Distinguished Citizen of Ogun State.
Architect (Mrs.) Bukky Ejiwumi is an Architect with the Lagos State Ministry of Works.
Prof. Michael Omolewa: Professor of Adult Education at the University of Ibadan, has served as Dean of the Faculty of Education and Head of the Department of Adult Education at the Institution. He serves as Consultant on Education issues to the World Bank, the British Council, the United Nations Development Programme, the United Nations Children Fund, Chairman of the Education Sector of the Nigeria National Commission for UNESCO. He is also currently a member of the International Advisory Board on Rural Education located in Beijing, China.
Miss. Antoinette Omo- Osagie: Secretary to the Board. The Board was inaugurated on Sunday 12th February, 1995 by Mother–in-Israel, Pastor (Mrs.) Folu Adeboye at the home of the Chairman, Prof (Mrs.) Juliet Macauley.
PROFESSOR JULIET MACAULEY:
Mummy spent her early years in Port-Harcourt. She attended the following schools:- Bellona Nursery and Primary School, Saint Cyprians School Port-Harcourt, Queens College and United Missionary College (Teacher Training). She also schooled in the United States and Britain. She did her PHD at the University of Ibadan. She studied Dramatic Arts and Speech Training in England. She went to a French School to learn Dress Making. She writes English Textbooks for schools till date.
PASTOR P. ADEYEMI:
He is the Pastor in Charge of the RCCG International Office. We all know our dear Pastor as Daddy Mate i.e Mate Supermarket, Ikeja. Married with 4 children, retired Bank C.E.O., now in private business as Chairman and CEO of Havilah Group of Companies. Also chairman/or Director of a number of Companies: including PRIMA GARNET Adversting Company Ltd., Prudential Insurance Co., Lexing Insurance Company Limited, Lee Insurance Brokers and Adbam Engineering Service Ltd. Above all things, a Servant of God.